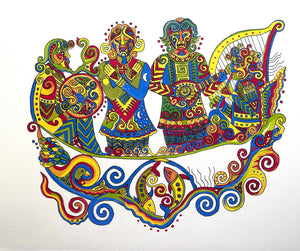 Linda Wiebe
2005 Celtic Festival Fine Art Print: Four Musicians in a Boat
Regular price
$35.00
$0.00
Unit price
per
I created "Four Musicians in a Boat" for the 2005 Celtic Roots Festival in Goderich, Ontario. The original is used in fundraising for the festival each year.
These prints
 are available in 3 sizes and are giclée f
ine art quality on cold press bright white paper.
I have been making artwork for the festival each year since 1993 and this is 13th in the series. 
Each piece is created to tell a story and has become a visual invitation to an annual celebration of music, dance, storytelling and craft art in the Celtic tradition.
Prints will include the title "Four Musicians in a Boat" and my signature and year, 2005.  All prints will come in in a clear bag with foam core backing.

Artist Notes
Four musicians in a boat,
Earth, Air, Fire, Water
Floating on the sea to
See what they can see.
Music is their water.
Rhythmic waves carry them
to their next destination
of creation.
---